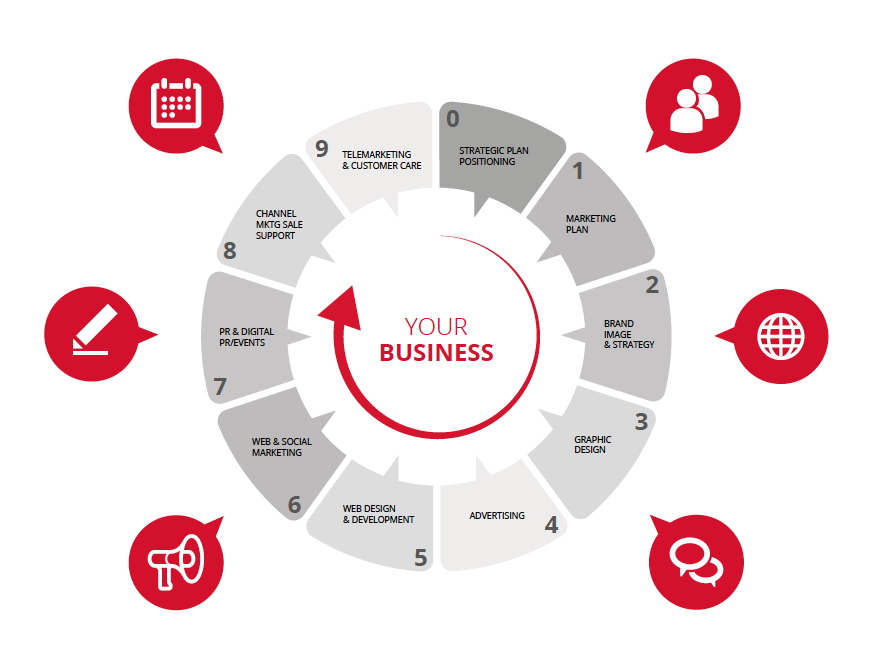 Agenzia Brand is a communication and marketing agency based in Milan and has developed a successful Business Model that allows its customers, through a "multi-channel strategy", to achieve measurable results in terms of turnover and, therefore, optimizing the ROI (Return-Of-Investment).
STRATEGIC PLAN
Agenzia Brand supports its customers starting from a Strategic Analysis and often from a Marketing Plan (Agenzia Brand collaborates closely with Kaos Marketing with which it shares intentions and operates in the same office in Milan) in order to analyze business objectives and achieve them in the best way, putting on track the right strategies and using the right tools. There is no recipe, every company needs an ad hoc analysis and operation that best meets its needs.
CORPORATE BRAND IMAGE
At the heart of Agenzia Brand strategy there is Brand Image, a key element of the company's identity, positioning and values. In this phase of the work, it is important to amalgamate the various aspects of communication, such as the following: Brand Identity, company and product brochures, POP material, events, promotion, etc.
WEBSITE and E-COMMERCE
The new digital strategies have upset corporate communication and have made it essential to create a Web site and / or an e-Commerce, characterized by dynamism and an attractive and responsive design, which represent the brand identity and can be a real business tool.
BRAND AWARENESS
There is no lack of attention to Brand Awareness: values, vision and mission must be communicated and conveyed to the target audience in a coordinated and synergistic way, to differentiate themselves from competitors and tell users about the company's true "unique selling proposition".
PR & DIGITAL PR
Great attention is paid to the development of relations with the world of both traditional media (TV, radio, newspapers, magazines, etc.) but also to the world of new media (Blog, social, influences, etc.). This step is supported by an online and offline PR strategy, involving opinion leaders and magazines aimed at the target audience. Useful in this regard is the use of the CREATHEAD community for the development of buzz marketing strategies with the creation of creative online contests.
CROSS-MEDIA PLAN
The next step is to implement a Cross-Media Plan, involving the media most consistent with the company's communication and business objectives. Agenzia Brand's strategies are increasingly aimed at new media, without forgetting, however, the offline tools that complete the framework of integrated communication.
WEB & Mobile Marketing
New media and digital tools are increasingly at the heart of the strategies of Agenzia Brand and its Digital Agency division, thanks to their measurability and the ability to define more accurately the target audience, from the demographic point of view, from the point of view of geolocation to the most advanced tools that allow you to define users based on their interests.
REMARKETING
From Social Media to Email Marketing, from SEO to SEM, from Programmatic to Performance Marketing. And once you've found your potential customers, don't miss them! Thanks to Remarketing strategies, Agenzia Brand is able to "chase" users who have shown interest in the brand, leading them to the purchase.
CARE CUSTOMER
The web does not forgive… customer care always remains the moment of truth of the marketing and communication activities carried out and it is very important to equip oneself with verification tools. Thanks to new technologies and surveys, it has become a dynamic and user-friendly tool. From social media to online chat, customer support is now in real time!
ANALYSIS & RESULTS
And last but not least, the Analysis of Results. The dynamism of online communication allows, through the analysis of data, to optimize actions to constantly improve performance. It is not therefore a last step, but a "new beginning" of the flow that, from time to time, allows the company to grow its business!